WestLand designed upgrades for three existing Pregnant Leach Solution pumping stations and associated pipeline. The design includes two pumping stations, a floating barge pump, and approximately 3 miles of HDPE pipeline. Project tasks included detailed hydraulic design, low voltage electrical and VFD design, process and instrumentation diagrams, medium-voltage switchgear design, structural and geotechnical design, surge analysis, detailed cost estimates, detailed construction specifications, hydraulic flow diagrams, a detailed HAZOPs analysis and report, and a hydraulic analysis of the existing pump system. Due to the highly corrosive nature of the pumped fluid, significant amounts of detailed engineering and vendor coordination were required to prevent corrosion and to minimize costs.
About Freeport-McMoRan Sierrita Operations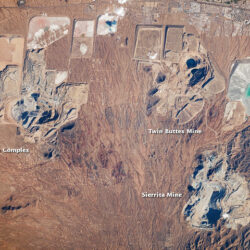 Freeport-McMoRan Sierrita Operations
The Sierrita Mine is a large copper mine located in the Sierrita Mountains of Arizona, in the southwestern part of the United States. The mine is located in southern Pima County, southwest of Tucson and west of Green Valley-Sahuarita. Originally developed as an underground mine in 1907, the Sierrita open pit has been in operation since 1959 and is an copper and…
Questions? We Have Answers.
WestLand is here to help. Experience is only a click away. Or, call your experts at WestLand, (520) 206-9585.
| | |
| --- | --- |
| Project | FMI Sierrita Headwall 5 Replacement Project |
| Completed | |
Similar Projects In This Sector
WestLand has been responding to the engineering, environmental, and regulatory challenges facing mining companies since our founding in 1997. At…
Similar Projects by Service
Engineering and Excellence Our engineers go beyond project plans to ensure the success of projects from design through construction—adding considerable…